As publishers become more corporate, global and boring, IRON Press champions new quality writing as it has done since 1973. IRON runs events and launches, and thinks literature is both serious and fun.
THE IRON AGE
The only place to be this weekend, from Wednesday 15th to Sunday 19th May, 2013, is the little fishing village of Cullercoats on the North-East Coast. For five days the village will host celebrations to mark the 40th anniversary of IRON Press, set up in 1973 when its founding editor Peter Mortimer was still in loons!
Read a feature about the festival in Living North magazine.
Last few tickets available for online booking!
OFF TO A FLYING START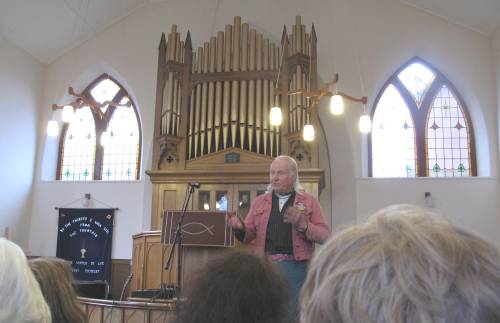 Peter Mortimer launched the festival in front of a capacity audience at the Fishermen's Mission on Wednesday May 15th. Taking first things first, the night's performance was a new script-in-hand reading of two of the plays from IRON Press's first book, Three North-East Plays.
The following night demonstrated the close link between poetry and stand-up comedy, as well as a hidden gem of a venue at Cullercoats RNLI - yes, the lifeboat house itself, right down on Cullercoats Bay. If you weren't one of the many people who squeezed in for a hilarious evening demonstrating the humour of poetry, there's a second chance when Valerie Laws considers IRON in the North East on Saturday morning.
Other highlights include the launch of Nesting a new book of stories by the acclaimed NE author David Almond (whose first two books were published by IRON Press), a happening (it could be anything) by the one and only Ian McMillan, who is a former IRON Magazine asst. editor, a three mile run along the coast with an author (Andy Croft) before his reading of his Great North Run book, a poetry/music event in the sea-front chippy, and 'Sea Haiku', where local fisherman John Stocks will take volunteer writers out to sea in a series of journeys, the hope being the trips produce enough imaginative haiku for an IRON Press pamphlet. We are also delighted to welcome back MELVYN BRAGG, who was published in an early edition of IRON Magazine, and who also hosted our 21st birthday celebrations at Live Theatre.
And anyone ever published by IRON Press will be eligible to enter the weekend snooker tournament held in the iconic Cullercoats Watch House - the best view on the planet from any snooker table!
The IRON Age, the full programme.
---
WARNING!
Another company is using the name Iron Press, and this company is publishing a range of books aimed at young children. Many of these books contain basic and atrocious spelling errors, and we are regularly chastised for such sloppy work. The company has no link whatsoever to ourselves and is based in Bleasby, Nottinghamshire. Our own IRON Press, which has been publishing since 1973, is not a publisher of children's books. All our publications contain our full postal and email address, web site and phone number, plus our own flatiron logo.
---
Submissions - No unsolicited submissions please. We are a small press. We do not publish novels. Our range is poetry, (including haiku), collections of short stories, and anthologies of verse and prose. If you think you have something that might interest us, firstly email us with brief details. Thanks!
---