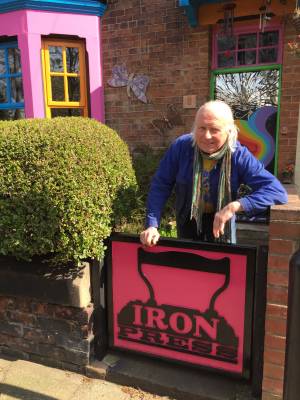 As publishers become more corporate, global and boring, IRON Press champions new quality writing as it has done since 1973. IRON runs events and launches; it also thinks literature is both serious and fun.
IRON Press editor Peter Mortimer chooses his words carefully in his latest entry on the Inpress blog.
---
Free as a Bard launches our 2016 progamme
The next Free as a Bard event will take place on June 5th at the Jam Jar Cinema, and will celebrate two new publications from IRON Press.
George Jowett will be performing poems from his new pamphlet Thatcher's Folly, about the former Tory leader's imagined liaison with an IRA member at the Grand Hotel, Bournemouth. John Price will be reading from Bye Bye Blackboard, poems inspired by the horrors of school days.
More information about the event on our News page.
Also coming in 2016, a book of haiku looking at birth, death and many stopping places between and a collection of richly comic poems springing from the experiences of a being a lifetime stutterer.
See our Coming Soon section for details.
---
CALL FOR SUBMISSIONS
for an anthology of new ghost stories due from IRON in 2017
IRON Press is seeking submissions of previously unpublished ghost stories for a new anthology, Cold Iron, to be co-edited by Peter Mortimer and Eileen Jones. Contributing writers will receive a payment of £50 per included story and one free copy of the anthology, and will be able to buy further copies at trade price. And - advance warning to those of a nervous disposition - we're already investigating some suitably spooky options for launch events in 2017.
The closing date for submissions is 30th September 2016. It is essential to check our News page for further details before submitting (no more than two) stories by post only please.
---
An historic book back in print
We first published this historic little book in 1992 and it ran to six prints.
The Haiku Hundred sold more than 10,000 copies making it the biggest selling book of English language haiku in the UK. It has been out of print for many years but is now published in a new format with every one of the 100 haiku intact.
We would be delighted to hear from many of the authors who, in the intervening twenty-three years, are no longer contactable. This would enable us to send them complimentary copies.
Read more about The Haiku Hundred here...
---
BAIKU REMINDER!
Writers who undertook our Baiku journey with poet David Bateman during the ECLECTIC IRON festival are reminded that we are keen to see any haiku that result from the journey and from the workshop that followed. If enough quality stuff results, we shall consider doing a small collection.
Please email the haiku to us at or send via surface mail to our postal address with a SAE.
---
Submissions - No unsolicited submissions please. We are a small press. We do not publish novels. Our range is poetry, (including haiku), collections of short stories, and anthologies of verse and prose. If you think you have something that might interest us, firstly email us with brief details. Thanks!
---
Photo of the IRON gate © 2015 Dylan Mortimer; IRON gate made by John Charlton, from the original logo design by Geoff Laws.