As publishers become more corporate, global and boring, IRON Press champions new quality writing as it has done since 1973. IRON runs events and launches; it also thinks literature is both serious and fun.
---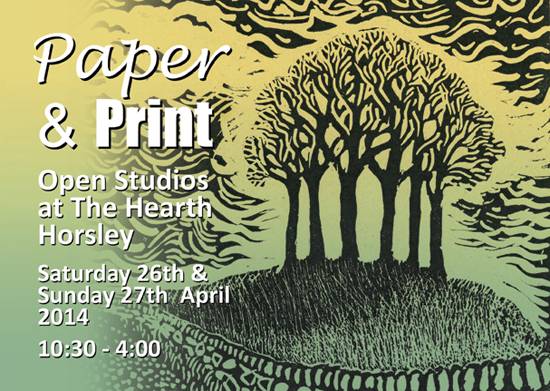 OPEN STUDIOS AT HORSLEY
Iron Press will join the ten resident artists, plus invited publishers, book artists, illustrators and book binders for Paper & Print, the Open Studios event at The Hearth, a thriving Arts Centre and Café situated at Horsley in the beautiful county of Northumberland. The event, over the weekend of April 26th - 27th, links in with Hexham Book Festival, and there will be a facsimile of the Lindisfarne Gospels on display in the Church.
More information on The Hearth website.
---
THE IRON AGE: BEST EVENT?
Last spring's Iron Age Festival has being shortlisted for the Best Event Tyneside at the esteemed Journal Culture Awards 2013. Iron Press is one of three finalists in this category. The winners will be announced at a ceremony at Sage Gateshead on Wednesday 16th April.
The Festival took place from Wednesday 15th to Sunday 19th May 2013, when the little fishing village of Cullercoats on the North-East Coast hosted celebrations to mark the 40th anniversary of IRON Press, set up in 1973 when its founding editor Peter Mortimer was still in loons! You can read the whole glittering programme here.
The final event was the Sea Haiku boat trip, delayed by bad weather during the festival itself, finally took to the waves. In Dave Turnbull's photo, Skipper John Stocks points out poetic niceties to the Sea Haiku poets who set sail as a belated part of the IRON AGE celebrations.
Now the beach is empty, the party really is over: but as part of the celebration, Iron Press published two new books, and these are still available as a souvenir for those who were lucky enough to be there, and to give a taste of the event to those who weren't.
In Through the Iron Age, Peter Mortimer, Iron's driving force and long-time editor looks back over the past forty years and gives us an editor's eye view of what makes Iron such a distinctive and durable voice. Even when looking back, Iron moves forward, seeking out new voices in its search for the best writers in the North East and beyond. Pieces from Eight brings together an octet of poets never previously published by Iron, who were invited to read each evening at the festival club.
What it's all about: read The IRON Age, the full programme or read what Melvyn Bragg said about Peter Mortimer and Iron Press.
Peter Mortimer adds: "At the risk of sounding like an Oscar acceptance speech it's worth highlighting some of the people who worked flat out to make the festival such a big success. Kitty Fitzgerald, Carol Clewlow, the catering from Pauline and Bose, sounds systems from Dylan and Ryan, the Jones sisters Kate and Eileen, Noreen Rees who organised the poetry run, our terrific band of volunteers who responded to all demands and our indefatigable photographer Dave Turnbull."
---
THINKING ONCE A WEEK
"Few people think more than two or three times a year; I have made an international reputation for myself by thinking once or twice a week."
George Bernard Shaw
Colin Stewart Jones decided to take up the challenge, and produce a haiku each week for a year - the result is this beautiful miniature book, which mixes both traditional and 21st century haiku.
Read more about Thinking Once a Week, which was published in January 2014.
And if you think you know your movies, try our previous publication, One Hundred Film Haiku, by Mick Haining, a pint-sized book (A6 format) containing pint-sized pitches for one hundred great movies. Even if you missed our fabulous launch, at which we combined with the Whitley Bay Film Festival for a hotly contested quiz - each haiku flashed up on a giant screen and members of the audience asked to identify that particular film - you can still play along at home!
More details of One Hundred Film Haiku - and some examples to try!
---
WARNING!
Another company is using the name Iron Press, and this company is publishing a range of books aimed at young children. Many of these books contain basic and atrocious spelling errors, and we are regularly chastised for such sloppy work. The company has no link whatsoever to ourselves and is based in Bleasby, Nottinghamshire. Our own IRON Press, which has been publishing since 1973, is not a publisher of children's books. All our publications contain our full postal and email address, web site and phone number, plus our own flatiron logo.
---
Submissions - No unsolicited submissions please. We are a small press. We do not publish novels. Our range is poetry, (including haiku), collections of short stories, and anthologies of verse and prose. If you think you have something that might interest us, firstly email us with brief details. Thanks!
---