As publishers become more corporate, global and boring, IRON Press champions new quality writing as it has done since 1973. IRON runs events and launches; it also thinks literature is both serious and fun.
---
SHORT NOT SWEET
Eight exciting stories
from eight North East writers
Eight new North-East writers developed their stories through a series of writing workshops led at Newcastle Central Library by IRON Press editor Peter Mortimer and Red Squirrel editor Sheila Wakefield.
A mysterious hotel guest books in for an unknown future funeral, a bizarre erotic encounter takes place in a public toilet, a character's life seems determined by the colour purple, two young lads set out on a mission of destructive arson, a woman's journey unlocks a buried childhood secret, a prankish student trip brings terrible consequences, a living house breathes and thinks, a daughter struggles to break free of maternal ties - these are the plotlines of eight new stories from North East writers.
Short not Sweet, published by Red Squirrel and Iron Press at the Books on Tyne Festival, November 2014.
---
ECLECTIC IRON
Following the roaring success of the 2013 IRON AGE Festival, which won Best Event Tyneside Award in The Journal Culture Awards 2014 and was described by writer David Almond as "the best festival I've ever read at" (and he's read at a lot globally), we're delighted to announce Eclectic IRON - a Festival of Words, Music & Oddities.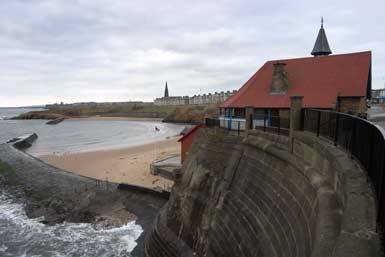 This will take place at six different venues facing onto the beautiful Cullercoats Bay from Thursday June 4 to Sunday June 7, 2015 and once again there's a heady mix of the famous, the grass-roots, the curious and the downright bizarre.
We're delighted that Tony Harrison, one of Britain and Europe's most acclaimed poets will give a rare reading on Tyneside. Barnsley poet and broadcaster Ian McMillan, who took the festival by storm in 2013, returns by popular demand, and leading North East crime novelist Ann Cleeves will both perform her work and also help several aspiring authors to write their own perfect Cullercoats murder novel - aided by an actual body and various other items. Colette Bryce, poet and ertswhile writer-in-residence at Cullercoats Dove Marine Laboratory will also appear.
Drama comes with the short play An Eccentric History of Cullercoats, specially written by Peter Mortimer with pupils of Marden Bridge School. A Baiku Event will see a 20 mile bike ride along the coast followed by a haiku workshop under the guiding hand of David Bateman.
Our Writer on a Rock project will see one brave scribbler spending two three hour sessions perched on a low tide rock armed only with lo-tec writing implements. Will the sessions produce a masterpiece or just a soggy notebook? Authors brave enough to apply get in touch. Only those with a published track record please.
We will launch at our Salt House late-night Festival Club, the CD Coast Buskers, music from one dozen talented musical artists who regularly keep the local buskers scene so vibrant; three artists to perform every night.
Plus a Book Fair, several other musicians, readings from IRON Press authors Liz Brownlee, Vicky Arthurs, Avril Joy and Lisa Rodgers, two ukelele bands, a talk on the Cullercoats Artists Colony, a Cullercoats quilt embroidered specially for the festival and an event featuring the three best aspiring novelists over 50 to come through several months workshops run by Cullercoats authors Carol Clewlow and Kitty Fitzgerald, and a documentary film on the 2013 Festival.
Plus a special event built round the recent IRON Press anthology, Limerick Nation - the UK in Verse.
All in four days - all round little old Cullercoats Bay!
More information will follow...
The ECLECTIC IRON Festival is supported by Arts Council England, New Writing North, Inpress Ltd and North Tyneside Council.
---
Limerick Nation
Attempting to rescue the poetic form from its low literary reputation
IRON Press challenged poets from around the British Isles to 'write a limerick about where you live (no cheating!)' More than sixty poets responded, so each of the limericks is inspired by the writer's place of residence. This is normally the town, but several writers have shown ingenuity and rhymed their district, their street name or even their postcode! Many of the limericks pinpoint a particular cultural, topographical or historical peculiarity of their locale.
Read more about Limerick Nation, and find out what rhymes with Leicester.
---
THE PALE HANDBAG OF THE APOCALYPSE
With our latest publication, IRON PRESS is excited to introduce a distinctive new voice in female poetry - though friends of Iron Press will recognise Eileen Jones as the editor of The IRON Book of New Humorous Verse - and one of the presiding spirits of the Iron Age Festival. Her debut collection, The Pale Handbag of the Apocalypse, is technically accomplished and full of intelligent wit, skewering the absurdities of modern life. The poems work with a highly distinctive and sometimes satirical or surreal humour.
The Facts of Life
At seven years old
shocked when my mother told me
about the mortgage
The Pale Handbag of the Apocalypse was published in May 2014, with a launch event at at The Hearth Arts Centre, Horsley. Read more about the book - and how to buy a copy!
---
THINKING ONCE A WEEK
"Few people think more than two or three times a year; I have made an international reputation for myself by thinking once or twice a week."
George Bernard Shaw
Colin Stewart Jones decided to take up the challenge, and produce a haiku each week for a year - the result is this beautiful miniature book, which mixes both traditional and 21st century haiku.
Read more about Thinking Once a Week, which was published in January 2014.
And if you think you know your movies, try our previous publication, One Hundred Film Haiku, by Mick Haining, a pint-sized book (A6 format) containing pint-sized pitches for one hundred great movies. Even if you missed our fabulous launch, at which we combined with the Whitley Bay Film Festival for a hotly contested quiz - each haiku flashed up on a giant screen and members of the audience asked to identify that particular film - you can still play along at home!
More details of One Hundred Film Haiku - and some examples to try!
---
WARNING!
Another company is using the name Iron Press, and this company is publishing a range of books aimed at young children. Many of these books contain basic and atrocious spelling errors, and we are regularly chastised for such sloppy work. The company has no link whatsoever to ourselves and is based in Bleasby, Nottinghamshire. Our own IRON Press, which has been publishing since 1973, is not a publisher of children's books. All our publications contain our full postal and email address, web site and phone number, plus our own flatiron logo.
---
Submissions - No unsolicited submissions please. We are a small press. We do not publish novels. Our range is poetry, (including haiku), collections of short stories, and anthologies of verse and prose. If you think you have something that might interest us, firstly email us with brief details. Thanks!
---