THE IRON AGE
The only place to be in mid-May, from Wednesday 15th to Sunday 19th, 2013, is the little fishing village of Cullercoats on the North-East Coast. For five days the village will host celebrations to mark the 40th anniversary of IRON Press, set up in 1973 when its founding editor Peter Mortimer was still in loons!
See the full programme, and how to book - but hurry, some events are already sold out!
---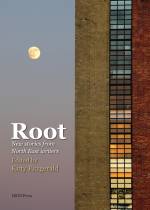 New from Iron Press, Root is a collection of short stories which re-affirm the North-East's status as a vibrant area for new writing. The subjects of the 15 stories on show here range from the domestic - family relationships, gardening, bullying, adoption and loss - to the plain bizarre: a circus bearded lady, a woman who morphs into Elvis, and an insight into what God wears to work.
Congratulations to contributors Avril Joy, who just won the inaugural Costa Short Story Award, and Angela Readman who was one the Asham Award winners and will be published by Virago.
Read an interview with editor Kitty Fitzgerald in the Journal.
Iron Press celebrated its publication at a series of readings throughout March and April, and around the region:
Thursday 21st February, 2.30pm
Whitley Bay Library, Park Road, Whitley Bay

Introduced by the book's editor, Kitty Fitzgerald
Readings by Jane Roberts-Morpeth & Rob Walton
Tea & Biscuits | Free Entry | Books available to buy

Thursday 14th March, 7.00 pm
Pelaw Library, Gateshead

Writers, Fiona Cooper and Rosemary Brydon
Tea & Biscuits | Free Entry

Wednesday 20th March, 12.30 pm
Appleby's Bookshop, 60 Newgate St. Morpeth

Writers, Amanda Baker and Judith Walker
Free Entry | Books available to buy

Wednesday 27th March, 6.30pm
Bewick Hall, Newcastle Central Library

Brief Introductions by Peter Mortimer (Editor IRON Press) and Kitty Fitzgerald (Root editor)
Readings by: Pauline Plummer, Crista Ermiya, Stephen Shieber
Music by: Ruth Lambert & friends
Wine & nibbles | Free Entry | Books available to buy

Wednesday 3rd April, 7.00 pm
Forum Books at Tea & Tipple cafe, Market Place, Corbridge

Writers, Avril Joy and Beda Higgins
Wine & nibbles | Free Entry | Books available to buy

Wednesday 10th April, 7.00 pm
Bishop Auckland Library

Writers, Avril Joy and John Price
Free Event

Tuesday 30th April, 1.00 pm
Hexham Book Fair @ Robinson-Gay Gallery, Market St, Hexham

Writers, Shelley Sclater and Eileen Jones
---
Readers' Groups - IRON Press is keen to promote reading. We can offer you good discounts on bulk ordering of any of our titles for your readers' groups. We may also be able to put you in touch with the writers if you'd like them to visit your group - do remember that writers need to live and eat, don't expect them to do readings/workshops for nothing. Your regional arts boards may be able to help you with funding information for writer's events
Readers and Writers - IRON Press itself can do events for readers and writers. We can offer a bookstall, a talk on Getting Published or How Small Presses Work or Poetry or Haiku or Getting Started in Writing, as well as readings. For more details e-mail us on ironpress@blueyonder.co.uk