George Jowett
Illustrated by Jane Burn
George Jowett lives in North Yorkshire, and his work was regularly seen in poetry magazines (including IRON Magazine) but he had written little in recent years. An invitation from Five Leaves Press to contribute a canto to their anthology for a new Don Juan for the 21st century got the creative juices working once more.
The proposal, from editors Andy Croft and Nigel Thompson was that sixteen contemporary poets should collaborate on a book, written, like Byron's original, exclusively in ottava rima, which would follow the sexual misadventures of its picaresque anti-hero, a night club DJ, born circa 1950, called Donald Johnson but known to his friends as Donny Johnny or Dee Jay, as he stumbles from one romantic disaster to the next.
The book, A Modern Don Juan: Cantos For These Times by Divers Hands, was published by Five Leaves, in the autumn of 2014. It included George Jowett's contribution, but too late the author realized that the canto, a bitter account of the break-up of his second marriage, was not the one he really wanted to write.
At the book's Teesside launch, George read, not the published canto, but a second one he wrote soon after, Thatcher's Folly, which IRON Press immediately offered to publish.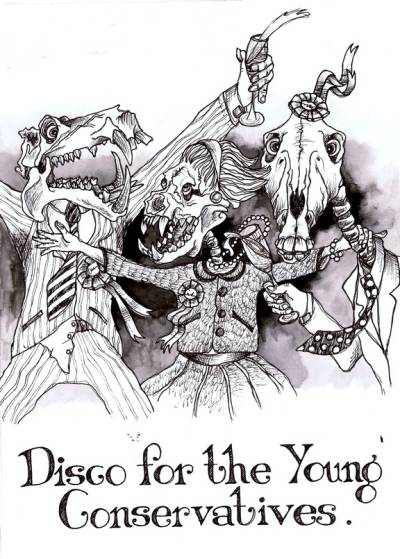 This is a wonderfully funny, satirical often scabrous account of an imagined liaison between Margaret Thatcher and the DJ, culminating in the Brighton Tory Party Conference bombing.
The canto is vividly illustrated by Jane Burn's black and white artwork.
---
ISBN: 978-0-993124-57-0
Price £5.00
Published in June 2016
Buy direct from Iron Press: either:
send a cheque for £6.00 (which includes £1.00 p&p) to Iron Press,
5 Marden Terrace, Cullercoats, NORTH SHIELDS NE30 4PD; or
Buy from Inpress using your debit or credit card; or
Order from any good bookshop